Independent Protagonists,
Independent director,
Independent producer,
Independent film.


DIALOG

Director: Cezary Iber
Producer: Sawomir Ciok
Music: Mugison
Co-financing: Polish Film Institut
An Icebreaker Films production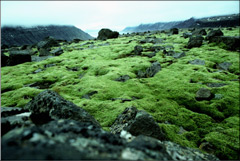 DIALOG - one of the sceneries
© Icebreaker Films, fot. Cezary Iber
Filmed along the coastline of in Iceland, DIALOG shows a unique Polish immigrants story in the time of open borders. It is unique in that it shows the positive and optimistic side of their experiences abroad.

DIALOG delves deeply into the relationship between two young Poles coming to Iceland. Unlike the other 30,000 Poles in Iceland who have come to Iceland as guest workers, the two have come to carry out a large-scale photography project. The two are educated architects and have chosen to take different paths in their lives. She has decided to make architecture her career while he has chosen to travel the world as an artist and has just taken the first steps of his acting career in Hollywood.

Traveling through Iceland they visit over 50 small and hardly accessible Icelandic villages carrying out their project. They specialize in taking pictures of Icelandic children aged between 3 and 6.

On their travels they capture many moments of the children's genuine joy. They also manage to capture real conflicts between the adults in the villages. Their pictures demonstrate how tensions can spread, erupt and what they leave behind.

We see a radical confrontation of two visions as the two photographers capture smiling children's faces, exotic landscapes and dramatic images of the snow and ice on the landscape. Can the two learn to understand one another? Is there a price to be paid for what they are doing?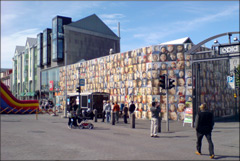 DIALOG – exhibition in Reykjavik (may 2008) © Icebreaker Films

We observe what they say and think and wonder how far are they from the Polish immigrant cliché. Are they simply there to make money or are they realizing their dreams? The choice is theirs. They can tell the truth or they can simply tell people what they want to hear.

What kind of relationship can the two build? Are there boundaries the two cannot cross?

This is a universal film about relations between people and also about their quest for realizing their dreams. It is also about how people try to find the same language or the same DIALOG in so many different dimensions.

The youngest faces of Iceland were imprinted onto aluminum plates 75x75cm in size. These plates then covered the main building in Reykjavik, establishing monumental exposure of the meeting point between inhabitants and tourists.

Mugison (Icelandic artist popular in Europe and USA)was the composer of the film's soundtrack. His tracks are also available on the album "Little Trip". His child also took part in the photography project.

More info: www.icebreakerfilms.net
Trailer available at: http://www.icebreakerfilms.net/video-dialog.html

Trailer